Awards & Community Service
Kingsport, TN, November 16, 2020  – Tennessee Department of Labor & Workforce Development Commissioner, Burns Phillips, announced that T E C Industrial was chosen to receive the Governor's Award of Excellence for Workplace Safety and Health.
"T E C has demonstrated a strong commitment to maintaining a safe and healthy workplace", said David Blessman, TOSHA VPP Manager. "The evaluation criteria for this award are challenging, and this company has worked extremely hard to meet and exceed the standards the award requires."
Greg Boehling, President & CEO of T E C Industrial, had this to say upon receiving the award, "We are very proud to receive this esteemed award. The Governor's Award of Excellence for Workplace Safety is one of the highest honors a company can receive in the State of Tennessee. It is a real testament to our employee's commitment to working safely, embracing our culture and believing that workplace injuries are all preventable."
The Governor's Award of Excellence honors Tennessee employers and employees who meet a required number of hours without workplace injuries serious enough to cause an employee to miss a day of work. The company also maintains injury and illness rates below the national average for their specific industry. The number of hours required to receive the recognition is based on the size of the company."
T E C Industrial Maintenance & Construction is an industrial construction and maintenance operations contractor. For this award period, the company qualified for the Governor's Award by working more than 959,317 hours without a lost-time workplace injury or illness. The company also achieved 17 million hours without an injury and illness on Oct 25th.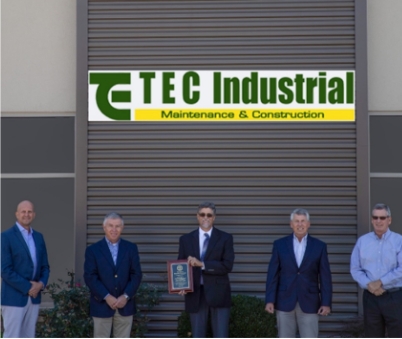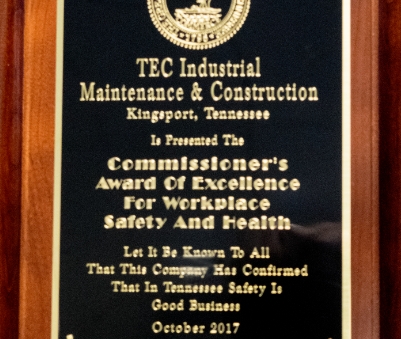 Engineering News-Record Recognizes T E C Industrial's Continued Success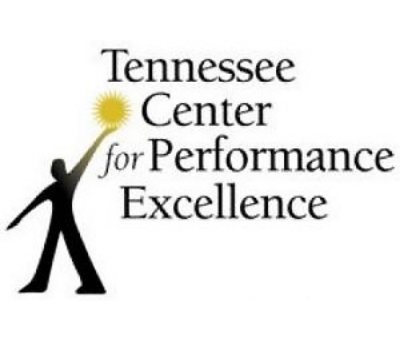 Kingsport, TN, October 24, 2020

 
– T E C Industrial Maintenance & Construction, a leader in a full range of industrial construction, maintenance, and project services, announced that it has again been named to Engineering News-Record's (ENR) Top 600 Specialty Contractors listing. This year, T E C Industrial is ranked at #194 and continues its impressive string of sustained progress since its' debut listing in 2008.

With offices in Kingsport, TN and Greenville, SC, T E C Industrial™ is a multi-discipline specialty contractor that offers a full range of self-perform construction, project management, plant maintenance, and outsourced services.

Engineering News-Record provides the engineering and construction news, analysis, commentary, and data that construction industry professionals need to do their jobs more effectively. ENR reports on the top design firms, architects and engineers, and the top construction companies and projects in the United States and worldwide. The Top 600 Specialty Contractors listing is based on revenue generated from projects during the preceding calendar year. For more information, please visit www.enr.com/toplists.
Tennesse Quality Commitment Award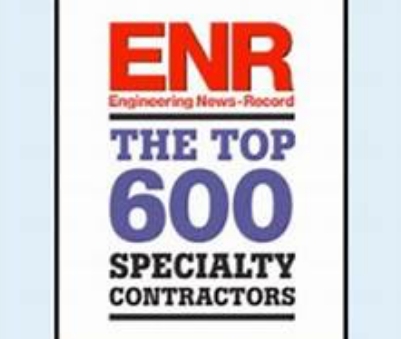 The Tennessee Center for Performance Excellence Award program, which bestows the Tennessee Quality Commitment Award, is open to companies and non-profit organizations throughout Tennessee (some out-of-state organizations are also eligible). The competing organizations are evaluated on the Baldridge National Quality program-based Criteria for Performance Excellence. Nearly 1000 companies enter the program each year. T E C Industrial is honored to have received this award, and we work to maintain that level of excellence every day.
T E C Industrial is a proud supporter of the United Way and its member agencies. As part of our culture of supporting the communities we live and work in, TE, Industrial, and our many employees support the United Way through monetary gifts and donations of time to serve various agencies.
Performance – We expect our employees to be prepared, timely, responsive, and focused on quality and customer satisfaction. Our customers can count on us to perform with excellence every time.
READY TO WORK FOR A COMPANY THAT CAN TAKE YOUR CAREER FURTHER?